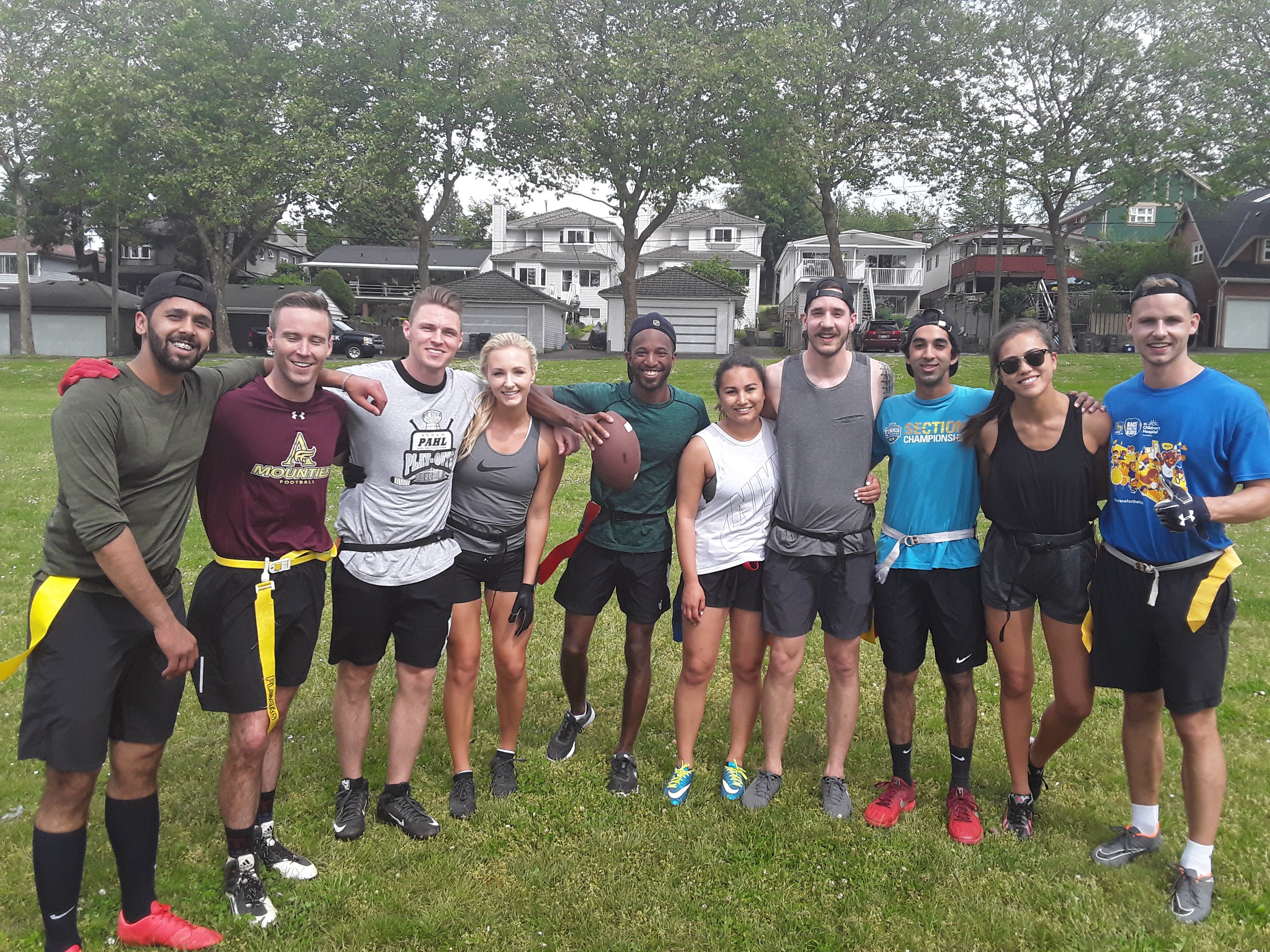 2023 Fall Registration Now Open!
Scroll to the bottom of the page to see what spaces are still available!
2024 Winter Registration (for leagues beginning in January)
Priority Registration (for teams playing in fall season)- Oct. 30 until NOON Nov. 6
Open Registration (for teams not in the fall season)- opens online at 12:15pm Nov. 6
Individual Registration- opens online at 12:15pm on Nov. 7
If you don't see individual registration as an option for a league listed below, then individual registration is NOT AVAILABLE for that league.
Urban Rec Coed Flag Football on grass in East Vancouver at General Brock Park (Slocan Field may also be used). Teams in this fun, social coed 6-on-6 league play games once a week and are required to have at least 2 women and 1 man on the field at all times. Flags and footballs are provided by Urban Rec. Each game is played within a one-hour time slot.
So grab your friends and form your own team, or sign up for an individual's team and make some new friends! This is a great way to stay active, have fun and meet some great people. Registration is limited so be sure to register early!
All teams that are registered in a league will have priority registration for that subsequent league.
Don't have a full team of your own? Join as an individual player! Click on the following to find out more about registering as an individual:
Individual Player FAQs Individual Teams Policy
*Notes:
- upcoming league information will be posted at the bottom of this page as bookings are finalized (additional leagues may be posted closer to the registration date)
- not all leagues may be offered in each season due to facility unavailability
- not all leagues may offer individual registration
Not sure what skill level to register your team at? Click Skill Level Descriptions to see a description of what the different skill levels are like in Urban Rec!
Click here to see Urban Rec policies.
For more information, please contact us at [email protected] or 604-879-9800.