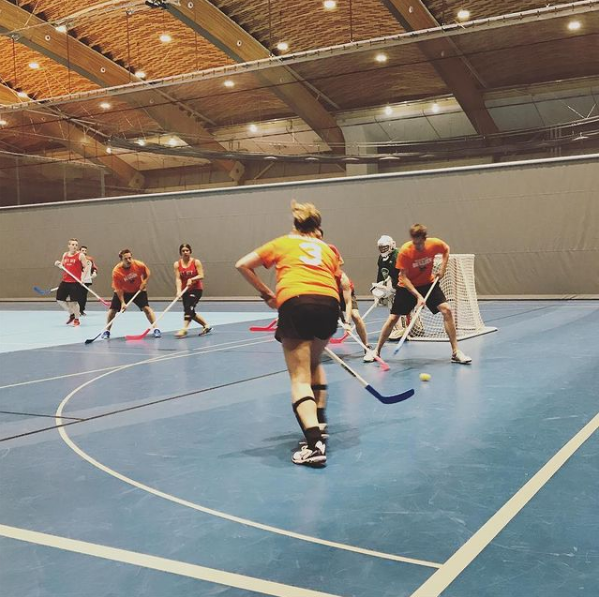 Spring Registration Dates (for leagues beginning in April/May)
Priority Registration: Feb. 13th until NOON on Feb. 21st
Open Registration- starts at 12:15pm on Feb. 21st
Individual Registration- starts at 12:15pm on Feb. 22nd
As league details are finalized for the spring season, they will be posted at the bottom of this page.
*Priority registration is for teams that played in the previous season of that specific league.
Open Registration is for teams that did NOT play in the previous season.
Individual registration may not be available for all leagues.
Urban Rec is proud to bring back the good old hockey game. Urban Rec coed floor hockey leagues are played out of multiple gyms on any particular night. When playing in Urban Rec floor hockey you will play one hour long game each week on the same night each week - you just have to pick the night you want to play. Urban Rec will offer the following options
Coed 4-on-4 (including the goalie) - Vancouver
Coed 6-on-6 (including the goalie) - Richmond Olympic Oval

Floor Hockey is offered on Monday through Thursday nights in a variety of locations in Vancouver, Richmond, and other locations depending on facility availability.
Teams are required to have at least one member of each gender (2 at the Oval) on the floor at any one time.
Urban Rec supplies all sticks and balls. Teams are responsible for supplying their own goalie equipment (including a mask or helmet with full facial protection).
Don't have a full team of your own? Join as an individual player! Click on the following to find out more about registering as an individual:
Individual Player FAQs
Individual Teams Policy
*Notes:
- upcoming league information will be posted at the bottom of this page as bookings are finalized (additional leagues may be posted closer to the registration date)
- not all leagues may be offered in each season due to facility unavailability
- not all leagues may offer individual registration
- note that individuals' teams are recreational in nature and are seeded as such (at least initially). More experienced players are welcome to join, but be aware that the overall skill level is generally less experienced.
- individuals' teams are responsible for choosing (or volunteering) someone on the team to play goalie (or you can take turns). Urban Rec will provide a set of goalie gear to be kept and used for the season by each individuals' team.
Not sure what skill level to register your team at? Click Skill Level Descriptions to see a description of what the different skill levels are like in Urban Rec!
Click here to see Urban Rec policies.
For more information, please contact us at [email protected] or 604-879-9800.